Liners & Bare Root > Bareroot Divisions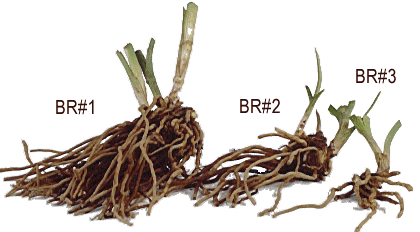 Our growing fields are located in Oregon's temperate Tualatin Valley, where fertile soil and optimal growing conditions come together to create a large and robust bare root product. We allow our product to develop to optimum quality standards by taking advantage of the longer growing season in the Pacific Northwest.
We offer already dug plants for immediate shipment on our weekly availability list. These are sold in bags of 25 and are considered as one flat for shipping purposes. Additionally, you will find "DTO" listings or Dig-To-Order. These plants are available in quantities of 100 per variety (except in mid-February to mid-April when the minimum is 25 per variety) and are subject to appropriate digging times through the year.
High volume pricing of 1000 per variety is available, please talk to us about your needs.
Bareroot Divisions Potting Guide
| | | | | | |
| --- | --- | --- | --- | --- | --- |
| Size | Finish 31/2-4" | Finish Quarts | Finish 1 Gallon | Finish 2 Gallon | Finish 5 Gallon |
| BR#1 | | | | | |
| BR#2 | | | | | |
| BR#3 | | | | | |
| BR#5 | | | | | |
| BR2g+ | | | | | |

Ideal for potting up into these sizes


Also works well into these sizes
Bare Root Divisions Tips
To take the guesswork out of ordering, our bare root liners are graded based on the size of container the division will ultimately finish. You can combine with liners to meet minimums. If bare root liners appear dry, soak in water or water with a very weak concentration of soluble fertilizer to help plants establish once planted.
If roots should arrive still frozen from cold storage, please allow them to thaw naturally in a cool and dark or heavily shaded area before processing. Do not put them immediately into a warm greenhouse.
You may notice a small amount of mold growing on the surface of roots or foliage. This is not uncommon during shipping and is not a problem unless potting is delayed. If you are unable to transplant the bare root liners immediately, store in a cool place for no more than a couple of days. The sooner you are able to pot or plant, the more vigorous your plants will be.