Finished Containers > Container Sizes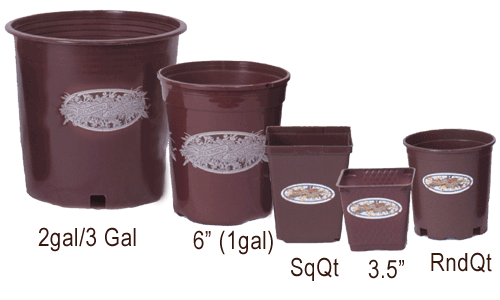 All retail-ready plants are packaged in our signature cabernet pots, complete with informative custom labels. Customers across the west have come to recognize the Blooming Advantage brand as a symbol of the highest quality plant material.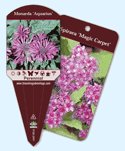 Nurseries and garden centers should always book finished containers from our weekly Retail Availability to ensure receiving the freshest, retail-ready plants for your merchandise displays.
Tags are included with all finished containers. If you or your customers want to learn more, the same information is available on-line. Consumers, landscapers, retailers and growers all access
www.bloomingadvantage.com
and our Plant Finder Utility to search for plant photographs, cultural information and more. Be sure to remind your customers about this valuable resource.
Landscape Ready
A more extensive Landscape Availability is also available and includes plant material that may have been recently cut back, is just leafing out or otherwise considered not "retail pretty". These are healthy, vigorous plants for landscape installation or for that "special order" retail customer.
| | | | | | | | | | | |
| --- | --- | --- | --- | --- | --- | --- | --- | --- | --- | --- |
| | 1 | 2 | 3 | 4 | 5 | 6 | 7 | 8 | 9 | 10 |
| 3.5" | 18 | 36 | 54 | 72 | 90 | 108 | 126 | 144 | 162 | 180 |
| Qt | 10 | 20 | 30 | 40 | 50 | 60 | 70 | 80 | 90 | 100 |
| RndQt | 8 | 16 | 24 | 32 | 40 | 48 | 56 | 64 | 72 | 80 |
| 1g (6") | 8 | 16 | 24 | 32 | 40 | 48 | 56 | 64 | 72 | 80 |
| 8" | 6 | 12 | 18 | 24 | 30 | 36 | 42 | 48 | 54 | 60 |
| 2g | 3 | 6 | 9 | 12 | 15 | 18 | 21 | 24 | 27 | 30 |
| 3g | 2 | 4 | 6 | 8 | 10 | 12 | 14 | 16 | 18 | 20 |
| 5g | 1 | 2 | 3 | 4 | 5 | 6 | 7 | 8 | 9 | 10 |
| bl/dp | 2 | 4 | 6 | 8 | 12 | 14 | 16 | 18 | 20 | 22 |
Blooming Nursery is compliant with Weights &amp Measures requirements. The chart below shows the soil volume of our containers


| | | | |
| --- | --- | --- | --- |
| Size | English Vol. | Metric Vol. | Fluid Oz. |
| 3.5" | 1.23 pt | 580 ml | 19.68 fl. oz |
| Qt | 1.97 pt | 930 ml | 1.52 fl. oz |
| RndQt | 1.90 pt | 920 ml | 30.40 fl. oz |
| 6" (1 gal) | 2.90 pt | 2.70 ltr | 92.80 fl. oz |
| 8" | 3.70 pt | 5.5 ltr | 118.4 fl. oz |
| 2 gallon | 1.55 gal | 5.87 ltr | 198.40 fl. oz |
| 3 gallon | 2.51 gal | 9.5 ltr | 321.28 fl. oz |
| 5 gallon | 3.40 gal | 12.92 ltr | 435.20 fl. oz |
| bl (Barrel) | 2.95 gal | 11.8 ltr | 399.00 fl. oz |