Current News
2011 eReference Guide CD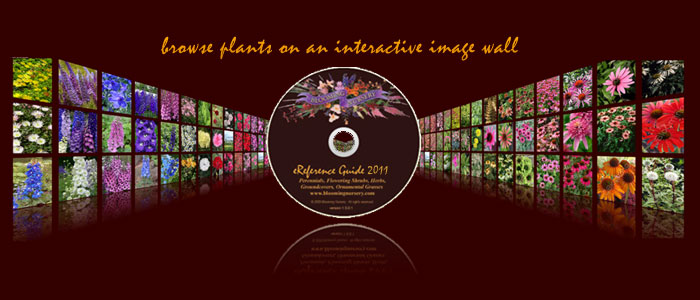 Our new 2011 eReference Guide on CD is now available! The guide has over 1,800 photographs with detailed information that can be accessed at the click of a mouse. You can search by type, 4-digit code, name, and more! The CD also includes a printable display card for each plant and a&nbsp Adobe PDF version of the guide. You can print just Perennials, or the entire guide. Contact your Blooming Nursery sales representative for more details.

Blooming Nursery Custom Propagation



Blooming Nursery offers liners and plugs on a year-round basis, although availability changes considerably throughout the year. Our standard plug and liner sizes are offered in a 1¼" plug, or 2" and 2½" pots. We also offer a few varieties in a root trainer 2" deep plug size.

We pride ourselves on supplying high quality liners to other growers. In the interest of supplying well-timed, vigorous liners we are now tailoring propagation to your specific needs, as well as supplying a smaller inventory of liners grown for the speculative market, as always.

Items listed in our Liner &amp Bare Root brochure (click the link) are many of the plants we maintain stock of and may be able to propagate and supply to you for your growing-on needs. Not all items will be offered at the same time as some plants can only be propagated at specific times of the year.

If you need at least 200-400 plants of a single variety, we can usually supply your needs through a custom order. If you place the order well in advance and we're able to schedule your plants with other orders or our own production, we may be able to provide the order with a lower minimum. Give us a call or send us a list of what we can grow for you!

We require at least 10 weeks grow time and in some cases up to 6 months depending on variety. All custom orders must be shipped within thirty days of scheduled delivery date or a holding fee may be assessed. A 25% non-refundable deposit and custom crop agreement is required prior to propagation.