Liners & Bare Root > Potted Liners & Plugs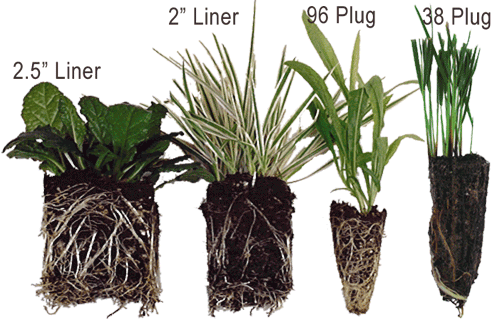 Be Size Savvy and Finish Faster!
We know that growing time is quite literally money.
That's why we offer you 2" and 2½" bottomless bandpots with much larger soil volumes and significantly more developed root systems than regular "liners". Check them out for yourself we've grown our own alongside liners from various trade sources of comparable flat counts and see significantly shortened finish times (50-70%! – compared to 72 or 50 count plug sheets).
We offer potted liners and plugs year round, although availability varies considerably throughout the year. Most of our product is vegetatively propagated although a small percentage is grown from seed.
Finished Container Potting Guide
Code
Description
Qty. per flat
3 1/2"- 4"
Quarts
1 Gallon
2 Gallon
5 Gallon
94
1 3/8" x 2 1/2"
deep plug tray
96
38
2 1/2" x 3 1/2"
deep plug tray
38
2"
2" x 2"
deep band pots
50
2 1/2"
2 1/2" x 2 3/4"
deep band pots
36
3 1/2"
3 1/2" x 3 3/4"
pots
18
Qts
4 1/4" x 5"
pots
16

Ideal for potting up into these sizes


Also good for potting into these sizes
Tags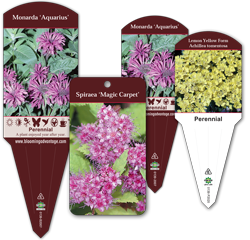 Colorful, descriptive picture tags are available for most varieties we grow. Stick tags are $0.10 and hang tags are $0.20 each. All tags are sold only in bundles of 50 and are subject to availability at time of shipping. If you would like to purchase tags, please request them at time of ordering for best availability. We do not offer tags without plants. They are sold on in 'in stock' basis and will not be back ordered if not available at time of shipping.